Culture Fusion youth arts centre for Bradford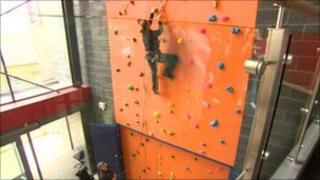 A new £7m youth centre is to open its doors in Bradford.
The Culture Fusion building in Thornton Road, which has been converted from a mill, aims to help young people gain skills and get involved with the arts.
Young people were actively involved in all aspects of its development, including the architecture and interior design of the building.
Paul Colley, from the YMCA, said: "This is the culmination of about five or six years' planning."
'Pillar to post'
Mr Colley, head of business and international development for the YMCA, added that the main financial bid had been submitted before "the cuts hit us hard".
The major funding came from Myplace, a Big Lottery Fund programme to deliver youth centres across England.
Mr Colley said the building would be "good for Bradford" and that by bringing together all the services for young people in the city, it would stop them being passed from "pillar to post".
The building boasts a space for a rooftop events, a climbing wall, recording centre and even an elevated wildflower meadow.
The total cost for the project was £7,380,000.