Kirkgate Market in Leeds 'to get £400k investment'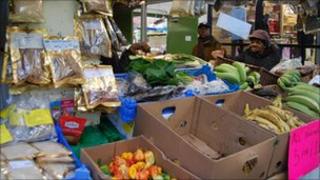 A £400,000 investment into Leeds's Kirkgate Market has been approved.
The money, along with £200,000 approved earlier this year, will be spent on maintenance works on the 1875 and 1904 sections of the market.
The work, which will start this week, includes general repairs, replacement roof glazing, electrical work and improved ventilation.
The city council's executive board approved the investment.
Traders have previously raised concerns about high rents, empty units and "dilapidated" buildings at the market.
Councillor Gerry Harper, deputy executive member for city development, said: "I hope this further investment from the council will serve to reassure both traders and the public how committed we are to securing the long term future of the market.
"We are well aware of problems that are affecting the market, and with this money we aim to make much needed repairs and improvements.
"Along with further investment in maintenance at the market our consultants are currently looking into the best way to move the market forward, and we should have the results from them in the near future."
An inquiry into the future of the market is currently under way.
Proposals being considered include a reduction in the number of stalls and handing control of the market to an outside company run by the council.