Kirklees Council considers free ice grips for elderly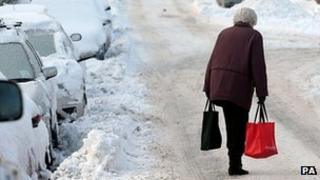 Free ice grips for footwear could be issued to older residents in a Yorkshire town in a bid to cut the number of winter ice-related injuries.
A group of over-50s in Huddersfield, West Yorkshire, will be offered the grips if a pilot project is given the go-ahead by Kirklees Council later.
It is hoped the grips could lead to a reduction in the number of falls and hospital admissions due to ice.
If successful, the scheme could be extended elsewhere in Kirklees.
Kirklees Council's Valleys Area Committee is being asked to support the Walking in Winter Safely pilot project, which is expected to cost about £360 to put into action.
About 60 volunteers would be issued with the ice grips, which attach to ordinary footwear.
'Help themselves'
A recent report to Kirklees Council showed that residents of the Valleys suffered the highest rate of hip fractures among under-75s in the whole of the district.
Supporting the pilot scheme, Andrew Marchington, Liberal Democrat councillor for Golcar, said it was important that older people could maintain their independence during spells of poor weather.
"We want to make sure they can get out and about safely," he said.
"We want to help them to help themselves, and make sure they are not trapped in their own homes."
If there is no ice or snow during the coming winter, those taking part in the pilot project will be able to keep their grips for future winters.