Keighley pupils pitch teddy bear bully aid to Google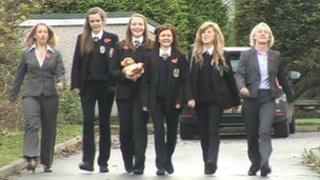 Four Keighley teenagers who invented a special teddy bear to help young victims of bullying, are to pitch the device to internet giant Google.
The Year 9 Oakbank School pupils won a competition against other schools for their 'Bully Bear' idea.
The bear, designed to be used in primary schools, contains a video and voice recorder and enables young bullying victims to talk to it.
One of the girls said she was bullied so wanted to help other victims.
'Hurt and upset'
Charlotte Wood, Charlotte Bowen, Louisa Baxandall and Lucy Walsh had to come up with an idea and business plan as part of the enterprise competition.
The girls won the top prize of a trip to New York where they will pitch the bear to Google.
Ms Bowen said: "I know I was bullied in primary school and I never wanted to tell my parents or teachers so I just thought from knowing what people go through, the hurt and upset they feel, you just want to talk to someone, so maybe a bear that everyone loves will help."
Ms Baxandall said: "If I went back to primary school I'd use it because I think it would really help someone."