Bradford judge praises four-year-old for attack evidence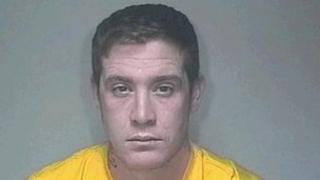 A judge has praised the courage of a four-year-old boy for giving evidence in a trial which led to his "vicious" attacker being jailed for 13 years.
Daniel Joyce stamped on the stomach of the boy, then two-and-a-half, causing him life-threatening injuries.
Joyce, 29, was found guilty at Bradford Crown Court of causing grievous bodily harm with intent.
The four-year-old is thought to be one of the youngest children to testify in a British trial.
The youngster appeared at court and was questioned by barristers in live evidence that spanned half a day.
The judges and lawyers involved removed their wigs and gowns to make the session less intimidating.
As part of the process the youngster was handed cardboard cut-outs representing those involved in the case and various households where he lived.
The court heard how the boy's bowel was torn and required surgery and how he was bruised on his groin, left leg and back during the attack on 26 February 2010.
'Remarkable boy'
He also had injuries to his face, inside his mouth and on his ear, where Joyce had held his mouth shut during the attack to stop him screaming.
He needed an emergency operation for life-threatening injuries and may need further surgery.
Joyce, of Bankfield Road, Longroyd Bridge, Huddersfield, claimed he found the child being sick and told his mother the boy needed a doctor.
Judge Jonathan Rose contrasted the "cowardly and reprehensible" actions of Joyce with the "courage and bravery" of the victim.
The judge said the motive for the attack remained unclear.
He added: "There are no circumstances known to man which could possibly justify or even mitigate this horrendous attack on a defenceless and innocent baby."
Referring to the victim, he said: "He is a remarkable little boy.
"Although too young to appreciate what he has done, he may one day understand how this court appreciates his honesty, bravery and fortitude."
Det Insp Gail Lawrie, of West Yorkshire Police's Calderdale safeguarding unit, said Joyce's punishment was "testimony to the bravery of the child victim, who has been through so much at such a young age, but will now, hopefully, one day forget this sad episode in his life."