Pontefract Hospital A&E closure: 6,000 signature petition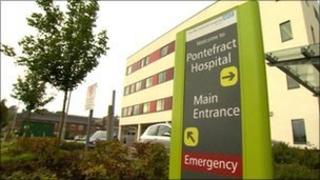 A 6,000 signature petition, calling for Pontefract Hospital's A&E department to reopen, has been presented to the Mid Yorkshire Hospitals NHS Trust.
The trust closed the department overnight from 1 November due to staff shortages but has insisted it is a temporary measure.
Yvette Cooper, Labour MP for Pontefract and Castleford, said people remained "furious" about the decision.
The petition was presented at a public meeting held on Thursday.
More than 300 people attended the meeting and the trust repeated that the decision to close the A&E department from 22:00 to 08:00 each night was made "purely on patient safety grounds".
Julia Squire, chief executive of the trust, said: "I can assure people if we can recruit enough middle-grade doctors then we will reopen the emergency department."
Ms Cooper said: "I think people are furious around here. It is not just the hundreds at the meeting, we have now got thousands of people who have signed our petition about A&E."
She added that the decision had raised concerns about the long-term future of Pontefract Hospital.
She said: "They have also told us that next year they want to consult on closing A&E altogether which is what is making people so angry."
Ms Squire said no decisions about future hospital provision had been made.
She added: "In terms of the future of Pontefract Hospital that is something that is being considered alongside the future of Dewsbury and Pinderfields Hospitals and the trust's community services."