New lock gates fitted in Leeds and Liverpool canal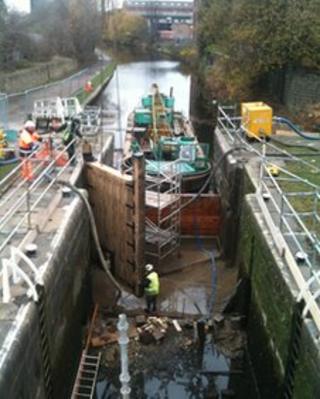 A £125,000 replacement of canal lock gates is under way on the Leeds and Liverpool canal in West Yorkshire.
British Waterways is replacing the gates at Oddy's Lock on the edge of Leeds city centre.
Two sets of gates will be craned out and replaced with new ones made at the Stanley Ferry workshop in Wakefield.
The canal will be drained and shut at this lock for several weeks as part of a winter maintenance programme.
Iain Weston, acting waterway manager, said: "The waterways are a much-loved national asset that are a tremendous example of our industrial heritage."
Mr Weston also said that the organisation was keen to recycle the timbers used in old lock gates.
Traditional skills
The workshop at Stanley Ferry, one of two in the country, has hand-built the gates using traditional skills that have changed very little over 200 years.
The new lock gates are made from sustainable British oak and have to be capable of withstanding occasional collisions with canal traffic during a working life of about 25 years.
Canals were often built by individual entrepreneurs so there is no standard design and each lock is different.
British Waterways looks after 1,650 lock gates across the country and over the next few months more than 100 hand-crafted British oak lock gates will be replaced.
In April 2012 British Waterways will become a new charity, the Canal and River Trust.
The Leeds and Liverpool canal covers a distance of 127 miles (204 km) between the two cities and has almost 100 locks along its length.
Work on the route started in 1770 and took almost 40 years for the canal to be completed.