Wakefield Facebook riot accused Hollie Bentley cleared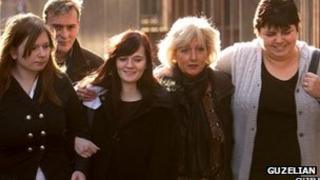 A 19-year-old woman from West Yorkshire has been cleared of encouraging rioting on Facebook.
Hollie Bentley, of Hornbeam Avenue, Wakefield, created an "event" - called "Wakey Riot" - on the website, followed by the words, "Who's Up For It?".
A judge at Leeds Crown Court told the jury to find her not guilty after hearing the message was a joke.
Miss Bentley had denied encouraging violent disorder at a previous hearing and was due to go on trial.
The teenager was arrested in August as rioting broke out in several English cities.
The court heard part of Miss Bentley's post included the letters LMFAO, an abbreviated form of a phrase commonly used online to indicate the writer is laughing at their comments.
The Recorder of Leeds, Peter Collier QC, told the jurors they could not be sure that at the time the message was posted she intended it to be taken seriously and directed the jury to find her not guilty.
'Not funny'
Richard Clews, prosecuting, said Miss Bentley posted her message on her Facebook page from her bedroom with a proposed time and date and with a picture of Wakefield Cathedral.
The court was told several people responded to the message, with one telling her "this is stupid" and telling her to delete it.
The jury heard Miss Bentley responded with, "You do know this is a joke, right?"
The prosecutor said the message was sent to more than 700 people and one of them, a 16-year-old youth, noticed the message and alerted his police officer brother.
Mr Clews added: "He didn't think it was a joke and reported it to his brother who reported it. The defendant was arrested.
"She told the police she thought it was funny. What the prosecution say is that nobody could possibly think anything like that was funny.
"It is not funny now and it was certainly not funny on the 9th of August."
Miss Bentley, who is pregnant with her first child, declined to comment as she left the court with her family.