Body of Leeds soldier Sheldon Steel repatriated to UK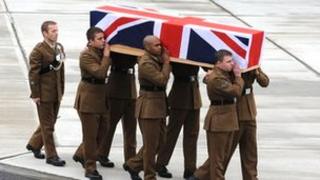 The body of a soldier who was killed in an explosion in Afghanistan has been repatriated to the UK.
Rifleman Sheldon Steel, 20, from Leeds, was killed on Sunday while on foot patrol in the Babaji area of Helmand province's Nahr-e Saraj district.
He was serving with the 5th Battalion The Rifles.
His body was flown into RAF Brize Norton in Oxfordshire where a private ceremony was held for family and friends.
'Big heart'
Following the ceremony, the cortege left the RAF base via the Britannia Gate on its way to the John Radcliffe Hospital in Oxford.
The cortege was escorted at walking pace as it approached the memorial garden in Carterton, past Royal British Legion standards, where Rifleman Steel's mother, Victoria, his two sisters, Carys and Cody, and brother, Kameron, had gathered.
Standing next to the Union Flag, which was hung at half-mast, they held white roses which they then placed on top of the hearse.
Several friends and extended family members also approached the hearse and placed their hands against the glass and bowed their heads.
As the hearse pulled away, there was a spontaneous round of applause by members of the public who had come to pay their respects.
Janet Eustace, town clerk at Carterton Town Council, said about 700 well-wishers had lined the streets.
In an earlier tribute, Rifleman Steel's family said: "Sheldon was loving, caring and affectionate with his family and we all heard from him regularly.
"He won prizes for his soldiering, both in training and in a regimental competition. He had a good sense of humour and frequently joked with us all.
"He was a big lad - all 6ft 4in of him - with a big heart. His Nanas had to stand on the wall outside the house to kiss him goodbye."
'Sense of fairness'
Rifleman Steel joined the Army in 2009.
Lt Col Tom Copinger-Symes, commanding officer 5 Rifles, said: "His death in an IED blast has taken one of our very best and we will be so much the poorer for his loss.
"Nevertheless, we have been enriched by his presence amongst us, his professionalism and his passion for our chosen career."
Nick O'Brien, assistant principal at Rifleman Steel's former school, Swallow Hill Community College, Armley, said he had been an "enthusiastic and very committed" student.
"He had a real sense of fairness and he knew the difference between right and wrong," he said.
"He was a very bright individual and he was a team player.
"The school is really sad. It's hit a lot of people because he was a well-liked student."
Prime Minister David Cameron and leader of the opposition Ed Miliband also paid tribute to Rifleman Steel.
His death takes the number of British troops who have died since operations in Afghanistan began in 2001 to 390.