Prince Henry's Grammar School becomes an academy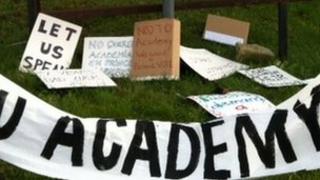 The head teacher and governors of a West Yorkshire school have achieved their aim of changing the centre to an academy.
Head teacher Janet Sheriff said the move would allow Prince Henry's Grammar School, at Otley, to fully control its budget "for the benefit of students".
But teachers' unions, parents, some governors and the local town council opposed the change.
The school now becomes semi-independent receiving cash from central government.
Ms Sheriff said the change would allow the school greater flexibility.
'No parental ballot'
She said: "Becoming an academy today means we have access to the full budget that's allocated to the school.
"We will have the flexibility to spend it in the areas that is the most beneficial to our students."
Academies are state-funded, receiving financial support directly from central government, rather than through a local authority.
Councillor John Eveleigh, leader of Otley Town Council, said the change to academy had been made against widespread opposition.
"This shouldn't have gone ahead without a full parental ballot," he said.
"The vast majority of the community are opposed to this."
Union 'disappointed'
Talks between unions and school governors broke down recently with no agreement reached.
Patrick Murphy, Leeds secretary of the National Union of Teachers, said the union was disappointed the change had been made.
He said: "We're very disappointed this has gone ahead despite overwhelming opposition.
"It's difficult to see what more the community and parents could have done."
Greg Mulholland, Liberal Democrat MP for North West Leeds, said: "The rules for changing to an academy were drawn up by Tony Blair's government.
"They were not fit for purpose then and they're not fit for purpose now.
"There should be a two-thirds majority of any governing body.
"People should be confident their voices will be heard."