Temple Newsam's Home Farm closed following recent fire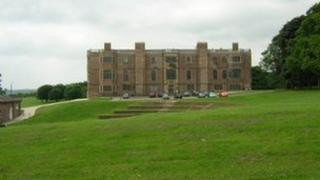 Temple Newsam's Home Farm is closed because of work following a recent fire that killed 34 animals and birds.
The clean-up after November's fire started with the farm's closure on Friday and needs specialist equipment to be used, Leeds City Council said.
The council also said it hoped the farm could reopen this coming weekend.
The fire broke out in the central Cow Byre and Bothy building and caused damage to the farm's historic machinery and equipment.
West Yorkshire Fire Service moved some creatures to safety but 2 sows, 16 piglets, 14 rabbits and 2 chicks died in the fire.
Earlier in the year the farm suffered a suspected arson attack when 80 cattle had to be rescued by firefighters.
Temple Newsam estate has 1500 acres (600 hectares) of parkland, woodland and farmland including a Tudor-Jacobean mansion.