Buried Huddersfield woman 'used diamond ring to escape'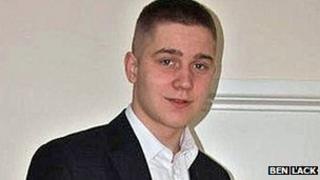 A woman who was buried alive in a cardboard box has told a jury she used her diamond engagement ring to free herself.
Michelina Lewandowska, 27, said she prayed as she tried to free herself in woodland near Huddersfield on 28 May.
Ms Lewandowska told Leeds Crown Court she was first attacked with a Taser stun gun in the home she shared with Marcin Kasprzak, 25.
Mr Kasprzak and Patryk Borys, 18, from Huddersfield, deny attempted murder.
Ms Lewandowska told the jury how she had been placed in the box by her partner, with whom she has a three-year-old son, after he attacked her with the 300,000 volt Taser at their home in Huddersfield and bound and gagged her with tape.
Heard digging
She told the court her partner had told her he "hated her" and said she was not as attractive as some women he saw at the gym.
The court was told she was placed in the boot of a car by Mr Kasprzak, of Penistone Road, and Mr Borys, of Rashcliffe Hill Road, and driven to a wooded area near Huddersfield where the box was buried in a shallow grave.
Ms Lewandowska recalled how she heard digging and then soil being placed on top of the box, allegedly by Mr Kasprzak.
"He was putting the soil on top of me. I wanted to reply. I wanted to put my two fingers through the hole but I was afraid if he could see it he may break my fingers with the shovel," she said.
Cut tape
Miss Lewandowska, who is Polish and who spoke through an interpreter, said: "I thought about my ring, that I could take it off my finger and try to cut through the tape with it.
"I cut the tape from my legs with this ring. I put the ring back on my finger then I put my whole hand through the opening.
"I was focusing on the hole I had just made. I took my head out from the box through the hole and at that point the soil was getting in."
The court was told she could hear music from a nearby pub and as she stumbled down to the road she stopped a passing motorist who took her home and raised the alarm.
The case continues.