Halifax fan David Singer paralysed after attack hopes to walk again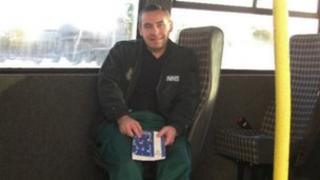 A West Yorkshire rugby fan who was attacked and left paralysed after a game has said he hopes to walk again.
David Singer suffered head injuries and was in a coma when he was set upon after watching a match between Halifax and Featherstone Rovers last year.
The 33-year-old year is now cared for in a nursing home.
Mr Singer, from Halifax, said: "I'm just trying to dwell on getting the most out of life. I don't want to dwell on what I can't do."
He added: "I hope to walk again and the physio is quite hopeful one day that I'll be able to with a stick."
A former ambulance technician, Mr Singer had travelled with his parents and friends to watch the game at the Halliwell Jones Stadium in Warrington in the Championship Grand Final last September.
He was returning to his coach in the car park when he was attacked.
He was in a coma for two weeks and had to have part of his skull removed, which has left him paralysed.
Mr Singer's father Ron Singer said: "David was actually supporting us as elder parents. He was doing things like insurance policies for us and now the roles have been reversed and we're back to looking after David as if he was like a child in a way."
No-one has been charged in connection with the attack.
Police have suggested that fans wearing Featherstone colours were targeting Halifax fans as they walked back to the car park after the match.