Bradford foster carer's 'happiest time'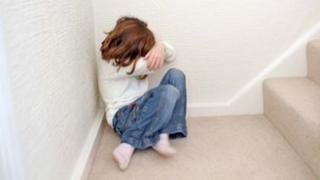 Amanda Richards' life as a foster carer started by chance when she was renting out a room in her house and a troubled teenager came to stay.
Due to issues within his family the 16-year-old could not live at home and he eventually became estranged from his parents.
The young man remained in Mrs Richards' care for many years and now, aged 29, he has moved out, got back in touch with his family and is studying for a degree.
Mrs Richards, from Bradford, West Yorkshire, said: "He had some complex needs and we knew that he wouldn't survive by himself so we decided to keep him.
"He's doing so well and we are so proud of him and everything that he's achieved.
"The main thing you get out of fostering is the great happiness from watching your children achieve and seeing how well they do."
Mrs Richards is one of 45,000 foster carers currently looking after children in the UK.
But a charity has warned that the UK faces a crisis unless more foster families are found within the year.
A report by the Fostering Network shows a shortfall of almost 9,000 families.
'So rewarding'
In Calderdale - where Mrs Richards lived when she became a carer - only one foster parent has been recruited this year and the council is now reviewing its fostering system.
Mrs Richards, 43, said: "I think that people are put off by the thought of the length of time it takes to go through the application process.
"But it has to go out to police checks and they have to do interviews and they have to do full background checks and training and obviously you want to make sure you get the right people for the right job.
"I also think sometimes people fear how the birth families will react to them but my experience with birth families has only been positive."
Mrs Richards, who has an 11-year-old daughter, gave up her job in accountancy to become a foster carer 14 years ago and has so far looked after 10 children.
She is given a salary and allowances to pay for transport, food and clothing for the children in her care.
For her, one of the hardest things about being a foster carer is saying goodbye to the children when they move on.
"The first time was the worst, letting him go was just so heartbreaking," she said.
"But it does get easier as time goes on, when you realise it's not the end and you still have the contact with them."
Mrs Richards said fostering had been a hugely rewarding experience.
"I can't say it's always been easy, but at the end of the day - looking back - some of the happiest years of my life have been when I have been fostering.
"Sometimes you've just got to see past what's actually in front of you and do your best for them.
"When they are there in front of you you just cant help but love them and want to help them.
"I would say to anyone if you have a spare bed, if you have a spare room, if there's even a possibility you might be able to help a child in need, go for it.
"Once you become a foster carer and you see your children going from not being able to read the simplest word to reading entire books and you see that child develop so much it's so rewarding for you.
"It brings you so much happiness and long-term happiness is giving to others not what you give to yourself."