Mentally ill Dewsbury mother's risk to child 'misjudged'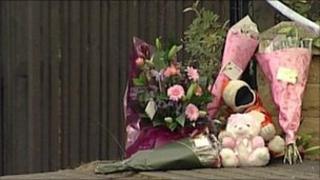 The death of a two-year-old girl who was killed by her mentally ill mother "was possibly preventable", according to a report that said professionals misjudged the risk to the youngster.
Jasmine Bellfield was smothered by her mother Sonia Bellfield, 31, at Dewsbury, West Yorkshire, last year.
A serious case review found Bellfield had a history of mental health problems, but was "stable".
Kirklees Safeguarding Children Board said it was a difficult case.
The review carried out by the Kirklees Safeguarding Children Board said that in the days before Jasmine's death her mother's mental health appeared to deteriorate.
Home visit
Police were called to their home at Naylor Court on 19 February and searched the house where they found the girl's body.
The report said two health visitors called at the house two days before Jasmine was found dead, on 17 February, and were concerned about Bellfield's behaviour.
They referred this on and, on 18 February, a community psychiatric nurse and emergency duty worker went to the home at 21:00 GMT but the mother refused them entry.
They planned an immediate follow-up visit the next day, which was when the police found Jasmine dead and her mother distressed and covered in blood from self-inflicted wounds.
The serious case review said there was no evidence of "any systemic organisational failures".
It said: "The professionals who attended the family home on 18 February 2010 did not consider the situation serious enough to take further action.
'Good practice'
"The board concludes that, if further action had been taken that evening then the outcome of this tragic case may have been different and, on that basis, that the child's death was possibly preventable."
Bron Sanders, independent chair of Kirklees Safeguarding Children Board, said: "It is a very difficult case involving a parent with a history of mental health issues but who was known to care well for her child before her condition deteriorated extremely quickly and with tragic consequences."
She said: "The review highlights many examples of good practice and we agree that the case's outcome was not the result of any systemic failures.
"At the same time, we acknowledge that more could, and should, have been done to prevent the case from reaching crisis point."