Leeds United fans top English banning orders league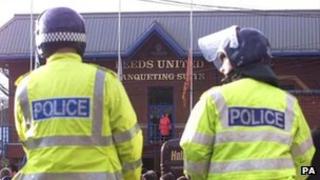 Leeds United fans have the highest number of football banning orders among England's clubs, figures have revealed.
The number fell over the past year, but 106 Leeds fans still have banning orders according to the new Home Office statistics.
The figures also show more Leeds United fans were arrested in 2010-11 than any other Championship club's supporters.
There were 149 arrests at Leeds games between November 2010 and November 2011, compared with 85 in 2009-10.
Most of the Leeds arrests were due to public disorder or alcohol-related offences, the figures show.
'Easy target'
Dave Gaertner, from Leeds United Supporters Club, said while the club had "at least twice as many" supporters as any other Championship club, the latest statistics were still "amazing".
"Football supporters are an easy target these days," he said.
"The Colonel Blimps will be looking at these figures and choking on their porridge.
"But I go to a lot of away games and it is very, very rare that I see what you would call serious trouble."
Mr Gaertner said he did not believe the situation was "anything like as bad" as the Home Office figures suggested.
A West Yorkshire Police spokesman said: "We always aim to police football matches positively and deal with any offences before they have the chance to escalate.
"Using legislation such as football banning orders is a key element, because it prevents those intent on causing disorder from attending fixtures in the first place."
The Home Office said football banning orders continued to have a positive effect, a decade after their introduction.