Wakefield nightclub attack prompts security campaign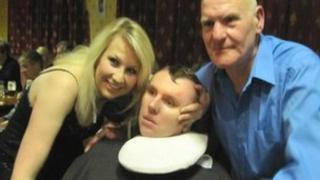 A woman whose husband was left brain damaged after being attacked during a night out has launched a campaign for better security inside nightclubs.
Phillip Snowden, 33, was punched and kicked in the head at Mustang Sally's in Wakefield in October 2010.
His attacker, 25-year-old Adam Smith, of Cobblers Lane, Pontefract, was jailed for nine years and four months at Leeds Crown Court in November.
Mr Snowden's wife Lisa now wants security inside clubs to be stepped up.
The court heard that Smith, who admitted grievous bodily harm with intent, had already been involved in a fight before the assault which left Mr Snowden with permanent brain damage and a fractured spine.
'Way of life'
More than a year later, Mr Snowden is still unable to walk or talk and lives in a care home.
His wife Lisa and his father Frank, both from Pontefract, visit him for several hours each day.
"It is now a way of life that we go and see Phil every day," said Mrs Snowden.
"You can't abandon him, he needs that reassurance and familiarity."
Mrs Snowden said she was now devoting much of her energy to a campaign to reduce drink or drug-fuelled violence in pubs and clubs.
She also wants to see more CCTV monitoring inside clubs and is starting an online petition urging the government to give the police more powers to close down premises where there is trouble.
"We want to get more bouncers or nightlife marshals inside clubs, not just on the doors," she said.
"It's all very well people walking past and being turned away if they're drunk or on drugs, but inside clubs they can get worse as well.
"If you get the Big Brother effect within the clubs then aggression, when it is spotted, can be stopped before it goes any further."
E-petitions allow any UK resident to lobby for a debate on the government website.
If the petition is signed by at least 100,000 people it becomes eligible for discussion in the House of Commons.
Mrs Snowden said her campaign was "a way of getting something positive out of a tragic situation".
"If we can stop it happening to one more person then we've done a job," she said.