Funeral for mother and sons murdered at Pudsey home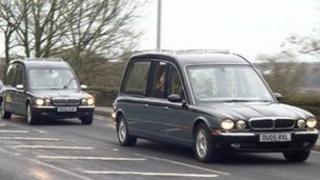 The funeral has taken place of a mother and her two sons who were murdered at their home in Leeds.
It is thought Richard Smith, 37, stabbed his wife Clair and two sons, Ben, nine, and Aaron, one, before taking his own life on 11 December.
Police started an investigation after the family were found together on a bed in a fire-damaged bedroom at their house on Sheridan Way, Pudsey.
The service for Mrs Smith and her sons was held at Rawdon Crematorium, Leeds.
Leeds Coroner David Hinchliff confirmed that Aaron and his mother died from stab wounds and that Ben Smith was suffocated. He had also been stabbed.
Richard Smith died from smoke inhalation.
Relatives have described the Smiths as a "perfect family".
In a statement, Mrs Smith's parents Alan and Norma Robinson said: "Clair was an exceptional person, loving and caring to everyone.
"She was a loving mum, her children were her life and everything centred around her family and home.
"She was our daughter and our best pal. We cannot imagine what caused this tragedy."
Friends said Mr Smith had worked for a shopfitting firm as a designer and had been a coach for a local football club.
They said the family had appeared to have no problems and they could not understand what had happened.