Extreme winds leave 1,500 without gas in Keighley, West Yorkshire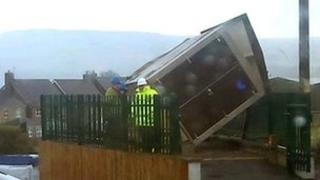 Severe winds left 1,500 homes without gas when a maintenance shelter in Keighley was damaged.
Northern Gas Networks said restoring the supply to Steeton, West Yorkshire, could take days.
The company said the roof of the shelter was designed to lift in case of a gas explosion, but extreme wind had blown it off instead.
Repairs have been carried out and engineers are visiting every affected property twice.
Gwen Allen, of Northern Gas Networks, which owns gas mains across the north of England, said it could be some time before the supply was restored.
She said: "I'd love there to be shortcuts but there aren't when it comes to gas safety.
"Once our engineers have turned off the gas supply at each property, they will revisit to safely restore the gas supply. This process takes some time but it is essential to ensure we can restore supplies safely.
"It is vital that people do not try to turn the gas back on themselves."
Soup kitchen
The company said a failsafe device turned the gas supply off as soon as the damage occurred to the maintenance shelter, meaning there was no danger to the public.
A customer drop-in centre has been set up at Steeton Sailors and Soldiers Club to hand out heaters and hot plates for food until 22:00 GMT on 3 January.
Washing facilities will be provided at Keighley Leisure Centre from 08:00 GMT on 4 January.
Northern Gas Networks said compensation would be paid to customers via gas providers if the supply was interrupted for more than 24 hours.