Hundreds of Steeton homes left without heating overnight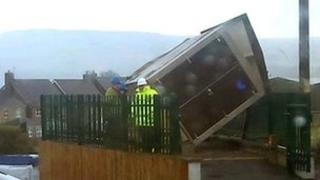 Thousands of people in West Yorkshire spent the night without heating and cooking facilities after extreme weather affected gas supplies.
About 1,600 homes in Steeton were left without gas after severe winds damaged a maintenance shelter.
Northern Gas Networks said restoring the supply could take days, as engineers had to visit each home twice before they could turn the gas back on.
The Met Office said temperatures in the area dropped to 2.5C overnight.
The weather is expected to be milder on Wednesday night, with a minimum temperature of 5C, a spokesman said.
Heaters, hot plates and hot food are being handed out to residents at drop-in centres.
Ian Cunningham, of Northern Gas Networks, said: "We would like to thank people for showing us a great deal of patience and understanding while we work hard to get the gas back on.
"It is important that people do not try to do this themselves, it is a job for a qualified gas engineer as there are critical safety checks that must be carried out."
Shuttle buses
Steeton resident Joanne Heseltine said: "We're quite fortunate really, we have lost heating, hot water and some cooking facilities but we still do have an electric oven so we can have hot food.
"We have no young children so there's nobody at risk from losing heat too much but unfortunately there are people round here who are elderly, young babies, and so it's much more worrying for them."
A customer drop-in centre has been set up at Steeton Sailors and Soldiers Club to hand out heaters and hot plates for food.
Hot food, drink and sandwiches are being provided at Keighley Leisure Centre.
Shuttle buses are stopping outside Airedale Hospital and the Mill Lane bus stop every 30 minutes to take people to the leisure centre.