Son of Stanningley crash couple offers thanks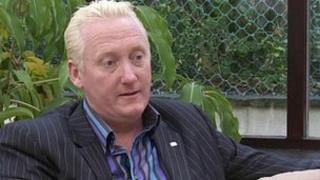 The son of a couple who were killed in a car accident on New Year's Day has thanked those who tried to help.
David Metcalf, 68, and his wife Dorothy, 65, died after their Fiat Punto was involved in a collision with a Volvo C70 on the outskirts of Leeds.
The son, Clive, a former police officer, said no more could have been done to save his parents.
Eduard Mereohra, 26, of Autumn Grove, Burley, Leeds, has been charged with causing death by dangerous driving.
He was remanded in custody to appear at the city's crown court on 10 January.
Clive Metcalf contacted the BBC to express his thanks to those who stopped to help his parents, who lived in Tinshill, Leeds.
He said the aftermath of the accident had been difficult for people to deal with.
Mr Metcalf said: "Dad had been thrown out of the car and was found on the grass verge, mum was still in her seat but because of the accident hanging out of the back window of the car.
"Passing witnesses have come to help, which we're so grateful for, I hope to be able to see them and thank them.
"A gentleman on his motorbike has stopped and gone to help mum in the car, another lady has gone and covered dad up on the verge.
"All I can do is thank the emergency services for their swift response.
"It was New Year's Day, I suppose quiet on the roads generally because people are staying in.
"The Air Ambulance was there along with the police helicopter so we couldn't have wished for a better service."