Gas supplies restored to Steeton homes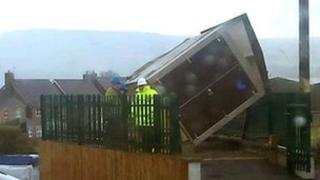 Hundreds of houses in West Yorkshire which were left without gas for more than 24 hours have had their gas supplies restored.
About 1,600 homes in Steeton were left without heating and cooking facilities after severe winds damaged a maintenance shelter on Tuesday.
Most of affected properties were reconnected on Wednesday evening.
Northern Gas Networks said engineers could not restore supplies to a small number of homes as residents were out.
The company urged those residents to get in touch.
Ian Cunningham, from Northern Gas Networks, said: "We have now got most properties back on gas and have visited all those we can't get inside three times.
"We are concerned that there are still some customers without gas, it's vital they don't try to turn the supply back on themselves, this is a job for a qualified gas engineer."
Customers are reminded to check the identity of all doorstep callers. All Northern Gas Networks engineers carry identity cards.