Leeds' Clarence Dock lease bought by Allied London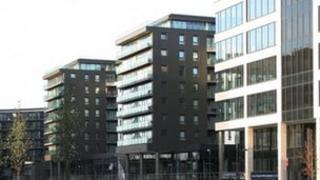 A property firm has bought the 150-year lease on an ailing Leeds city centre waterside development.
Allied London has said it wants to transform the fortunes of the £250m Clarence Dock site.
Of the 35 retail and restaurant units, 28 are unoccupied and in February 2010 one tenant described it as a "ghost town".
Allied London is expected to pay the ground rent and rates for empty units, and service charges.
The development was created to transform the industrial riverside area into a fashionable urban village with upmarket shops and restaurants.
Since it opened in 2007, a coffee shop and clothes store have closed, with other businesses warning they could also be in trouble unless more people are drawn to the area.
There were concerns that the effects of the recession, coupled with the cost of car-parking, could have contributed to the lack of trade.
Tom Riordan, chief executive of Leeds City Council, said: "This is great news of more investment in Leeds that shows confidence in the city's economy.
"Allied London has a good track record of invigorating city centre quarters such as Spinningfields in Manchester."