Holmfirth Tesco superstore plan divides town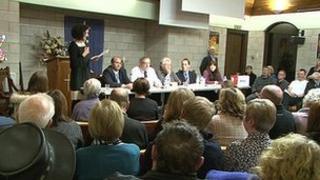 Plans for a Tesco supermarket near a West Yorkshire market town made famous by a hit TV series have split opinions among traders and local residents.
The retailer is to apply for permission to build a store outside Holmfirth, where the BBC sitcom Last of the Summer Wine was filmed for 37 years.
At a public meeting traders said they feared the supermarket could damage business in the town centre.
But Tesco said there was "a lot of support" among local residents.
If given the go-ahead by Kirklees Council, the 2,150 sq ft (199.74 sq m) supermarket would be built on New Mill Road, about half-a-mile (0.6 km) from Holmfirth town centre.
Tesco said it would create about 175 part-time and full-time jobs.
'Entirely wrong'
It is the second time the supermarket has applied for permission to build a shop near Holmfirth.
Plans to build a Tesco supermarket on the same site were withdrawn in September 2009 after local residents claimed it would affect the town's character and cause congestion.
Deborah Hayeems, corporate affairs manager for Tesco, told a well-attended public meeting that the revised plans, which include a smaller store than in the previous application, had attracted widespread approval.
"A lot of people tell us they are currently driving outside Holmfirth to shop, travelling to places like Huddersfield, Penistone and Meltham," she said.
"They would like to be able to shop in Holmfirth and that is the basis of our proposal."
Ms Hayeems added that Tesco would consider setting up a bus service between the new store and Holmfirth to encourage people to travel to the town centre.
Caroline Anstey, from the Holme Valley Business Association, said the planned location for the new store was "entirely wrong".
"Shops should be in towns. As soon as you start dragging them into out-of-town locations you damage the town centre," she said.
'No reason'
Holmfirth greengrocer Andrew Bray said the planned store would "ruin" trade in Holmfirth and surrounding villages.
"People won't get involved in the community like they do when they are walking to the local shops and meeting people," he said.
Supporting Tesco's plans, local resident Sue Crossland told the public meeting that Holmfirth "needed" the proposed store.
"We all do at least part of our shopping in Holmfirth and can see no reason whatsoever why that would change because we could do our weekly large shop in Tesco's," she said.
Kirklees Council is expected to make a final decision on the planning application in March.