Bradford Bulls star Chev Walker in organ donor plea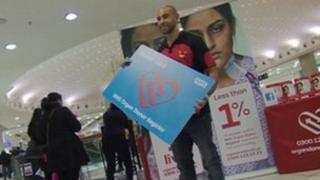 A Bradford Bulls player is supporting a campaign to get more members of the Black and Asian community to sign the organ donor register.
Chev Walker was at a Bradford shopping centre with NHS staff and a local transplant patient.
The NHS said only 2% of people on the register are of Black or Asian origin.
According to NHS figures, more than 60% of the people waiting for an organ transplant in Bradford are from the Asian or Black community.
Also joining the event was Abrar Hussain, who required a liver transplant after developing cancer.
In August 2010, after spending three months on the transplant waiting list, he received a call from St James's Hospital in Leeds to say they had found a donor.
He said: "I was one of the lucky ones. To receive a liver transplant so soon after being on the waiting list was an absolute miracle. Apart from a few minor health complications it has transformed my life.
"Before my illness I was a very active person and particularly enjoyed playing cricket. One year on from my surgery, I still have to be careful and colleagues at work make sure I don't do any heavy lifting, otherwise I lead a normal, healthy, active life."