Barratts deal to save 1,100 jobs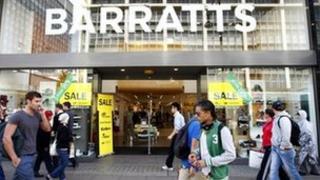 Management at troubled shoe chain Barratts have struck a deal to buy 89 shops.
However, the agreement will lead to the closure of more than 50 outlets and the loss of 680 jobs.
The deal, with the existing management team, will protect 1,184 jobs but 39 stores and 14 concessions will close, administrators Deloitte said.
The Bradford-based company went into administration last month, blaming a downturn in consumer spending.
Around 1,600 jobs have already been lost after attempts to find a buyer for its concessions business failed, but this did not affect the stand-alone stores.
The shoe chain blamed unseasonably mild weather for exacerbating already difficult trading conditions as it went into administration.
The business will now be run by Barratts chief executive Michael Ziff.
Mr Ziff said: "I am delighted that we have been able to conclude this deal and save as many jobs as we have. The last few months have been very challenging but we have a great team in place."
It was the second time the business was put into administration as Mr Ziff, chairman of Barratts Priceless parent company Stylo, bought 160 shops from Deloitte in 2009.
At the time, Deloitte closed 220 stores but Mr Ziff was able to safeguard around 3,000 jobs.