Garforth killings: Sarah Laycock's parents 'devastated' at deaths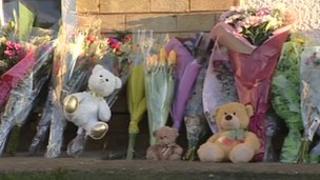 The parents of a woman who was found dead at her home along with her eight-year-old daughter say they are "absolutely devastated".
Police found the bodies of Sarah Laycock, 31, and daughter Abigail at their home on Kirkby Avenue, Garforth, West Yorkshire, on Sunday.
A four-year-old girl was also found with minor injuries at the house.
A 36-year-old man has been arrested on suspicion of murder and attempted murder.
The arrested man has been named locally as Ms Laycock's partner John Miller.
He is continuing to receive treatment at hospital, West Yorkshire Police said.
'Joy and enthusiasm'
Ms Laycock's parents, Brenda and Chris, said they would like to thank everyone who had sent them messages, cards and flowers.
"We are grateful to the police, especially the family liaison officers, for all their support," they added.
Ms Laycock's parents also asked that their privacy be respected.
Mark Burns-Williamson, a governor at Wheldon Infant School, Castleford, where Ms Laycock had recently been appointed deputy head teacher, described her as "a very bright, energetic and happy member of staff".
"She brought a lot of joy and enthusiasm to children at the school and to her colleagues," he said.
"She had her whole career in front of her. She was a much-loved teacher and doing a great job.
"You just cannot believe that this has happened."
Mr Burns-Williamson said a special assembly was held at the school on Tuesday morning in memory of Ms Laycock.
"We're just trying to do things in as calm a way as we can to try and help the children to come to terms with the loss of someone they saw on a day-to-day basis," he said.
Educational psychologists have been working alongside staff at Wheldon Infant School, and at Ninelands Primary School, Garforth, where Abigail was a pupil.