Leeds Children's Mayor presents his manifesto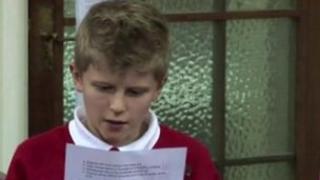 The latest Leeds Children's Mayor, a 10-year-old boy, will present his manifesto to the city's councillors at a full council meeting.
Joe Smith was elected in November 2011 with his idea that gyms should create "kids zones" using special equipment.
He beat 10 other candidates in an online election.
Joe said he hoped his plan would help children to take more exercise because it was "important for kids to be more healthy".
He would like to see each piece of equipment fitted with interactive games to make keeping fit more fun.
Lord Mayor of Leeds Alan Taylor said: "I look forward to listening to Joe's manifesto."
Joe has already accompanied the Lord Mayor to the switching on of the city's Christmas lights and has taken a trip in the Lord Mayor's car to his school to present an assembly.