MP Chris Huhne praises Leeds eco-housing project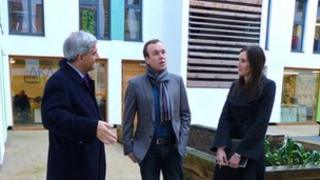 A pioneering green housing project in Leeds has been praised by the Energy and Climate Secretary Chris Huhne.
The minister said he hoped to see similar projects rolled out "across our country if we're to get a grip on our energy bills".
The Greenhouse includes 166 flats and 15,000 sq ft of office space, which has been "wrapped" in insulation.
The entire building generates its own heat and energy using two wind turbines and solar thermal panels on the roof.
According to developers Citu, the green development is helping residents to reduce their energy bills by 60%.
An 80m (262ft) deep borehole is used to extract water at a temperature of 13C (45F) from the ground. Rainwater is recycled and used for showers, washing machines and to flush toilets.
The 260 "eco-conscious" residents have access to allotments, a shared bicycle scheme and a "green" cafe on the premises.
'Win-win' solution
Mr Huhne went on a tour of the building and met some of the residents on Thursday.
He said it was "an excellent project" and one that proved to be a "win-win" solution for refurbishing old buildings and for homeowners to save on energy bills.
"There are enormous gains to be made for householders," he said.
"It's win-win. It's a win for the residents because they're getting lower energy bills and a very pleasant environment to live in. It's a win for all those who've been involved in the project because it's profitable and can be repeated.
"And it's a win for the country, because it's not only creating jobs but also saving energy and therefore making us less reliant on - often volatile - imports of gas and oil."
Mr Huhne's visit comes after MP Hilary Benn praised the project at a House of Commons debate last November saying the development was "a living, breathing example of what can be done and a good illustration of the kind of innovation that can be found in the region".
The Greenhouse was converted from a 1938 brick building and opened in October 2010.