Memorial unveiled to Bradford soldier Martin Bell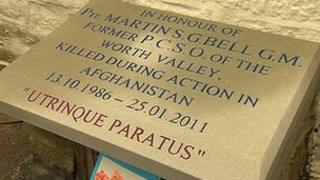 A memorial has been unveiled in West Yorkshire to a paratrooper and former police community support officer (PCSO) who died in Afghanistan.
Pte Martin Bell, 24, from Bradford, was killed in an explosion in January 2011 while going to the aid of a wounded friend and saving his life.
He served as a PCSO for West Yorkshire Police before joining the Army.
A stone plaque has been erected at the police contact point in Haworth where Pte Bell patrolled.
The paratrooper was on his first tour in Afghanistan, serving with the 2nd Battalion the Parachute Regiment.
Before he was killed by an improvised explosive device (IED), Pte Bell ignored an order not to move from his position to reach his wounded friend and applied a tourniquet to stem the blood flow.
He was awarded a posthumous George Medal for his actions.
'Great honour'
The plaque, which was provided free by local craftsmen, was unveiled by Pte Bell's mother, Elaine Bell.
Mrs Bell said the unveiling, held a year to the day since Pte Bell's death in Afghanistan, was "very moving".
"It is a great honour for Martin. We think about him every day and he was a fantastic character," she said.
Dignitaries including West Yorkshire Police chief constable Sir Norman Bettison, Bradford councillors and members of the Parachute Regiment, also attended the ceremony.
Sir Norman said it was "fantastic" that Haworth residents would have a permanent reminder of Pte Bell's bravery as a soldier and his compassion as a PCSO.
"As a PCSO, Martin worked in the heart of the local community in the Worth Valley so it is appropriate such a fitting memorial has been created in Martin's name at one of the contact points we use to provide truly local policing," Sir Norman said.
"It is heart-warming to see so many individuals, not least the talented craftsmen who created this plaque, come together to give their effort and time to remember Martin this way."