Views wanted on Wakefield Kirkgate upgrade plan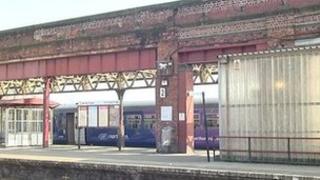 People's views are wanted on how a railway station named "one of the worst in Britain" could be improved.
Some refurbishment has already taken place at Wakefield Kirkgate.
Groundwork Wakefield is running the consultation and said getting people's views was key to ensuring the station development met their needs.
In 2009, the then Transport Secretary Lord Adonis labelled the station as "probably the worst 'medium-large' station I have seen in Britain".
Recent work at Wakefield Kirkgate has included improvements to CCTV and the subway and entrance lobby.
Earlier this month, Network Rail said an additional £1.5m would be used to bring the Grade II-listed building up to a safe standard.
Network Rail along with other agencies including Groundwork Wakefield, Wakefield Council and Railway Heritage Trust are involved in plans to transform the station.
Councillor Peter Box, leader of Wakefield Council, said: "This consultation is a good opportunity for people to have their say and help Groundwork develop a station that will be a real asset to those who use it and the city."