Thousands of coarse fish in Kippax re-homed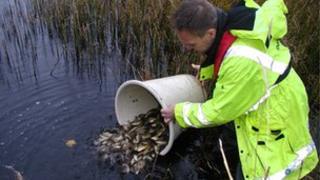 Thousands of coarse fish are to be moved to new locations in West and North Yorkshire.
Up to 3,000 roach, perch and bream will be moved from Polo Pond in Kippax, near Leeds, to improve the fishery.
Officers from the Environment Agency (EA) will be moving about 1,000lb (450 kg) of fish to make more space for others to thrive.
The fish will be taken to the Aire and Calder canal, Leeds and to Sandwath Lake, Church Fenton in North Yorkshire.
The fish, weighing an average of six ounces, will be netted by members of Leeds and District Society of Anglers.
The pond in Kippax has become over populated and the growth of the fish has become stunted.
EA fisheries officer Peter Mischenko said the remaining fish would have "better living conditions" and the moved fish would thrive in their new waters.
Coarse fish are types of freshwater fish other than game fish.