Red House, Gomersal, sale plan criticised as 'disaster'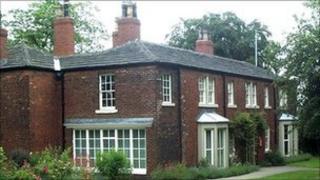 Proposals by a West Yorkshire council to sell a house which is the setting for a novel by one of the Bronte sisters have been criticised as a "disaster" by the plan's opponents.
Kirklees Council said the sale of Red House, Gomersal, would fill "a very big gap" in the council's budget.
The house, now a museum, is the setting for Charlotte Bronte's novel Shirley.
Campaigners against the proposal are expected to hold a protest at a Kirklees Council meeting later.
'Disappearing history'
Built in 1660, Red House was home to the Taylor family of cloth merchants and manufacturers.
Mary Taylor, who lived in the house in the 19th century, is considered to be an early champion of women's rights and was a close friend of Charlotte Bronte.
Joan Bellamy, author of a biography of Mary Taylor, said the sale of Red House would be a big loss to the history of the local area.
"It's a disaster. If it was sold then the history of the house would be in danger of disappearing," she said.
"The history of the area - the textiles, the Luddites and Charlotte Bronte's novel - all those elements represented by the house would disappear."
Kirklees Council said in its proposals for 2012 budget consideration that the possible closure of Red House at the end of September 2012 would mean a saving of £116,000 a year.
A council spokesman said: "Councillors have difficult decisions to make as there is a continuing need to achieve efficiencies from across the whole range of services in the three-year budget plan.
"The proposal to close Red House Museum is one of a large number of measures up for consideration which have been proposed to fill a very big gap in the council's budget and reduce expenditure."
The spokesman added that "no decision" had been made on the sale of Red House, and local residents were being invited to make their views known.