Bradford deaths trial: Men killed over 'love affair'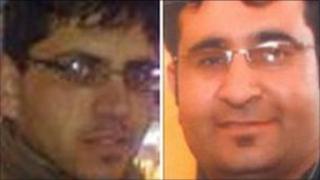 Two men were murdered and their bodies dumped in a country lane because one of them was having an affair with a married woman, a court has heard.
Shahbzada Muhammed Imran, known as Imran Khan, 27, and Ahmedin Sayed Khyel, 35, were found on New Lane, near Bradford, last May.
Bradford Crown Court was told Mr Khyel had been having an affair with the wife of Muhammed Zubair.
Sabir Hussain, 40, denies two counts of murder.
Mr Zubair is the main suspect in the murders but has not been found.
Prosecutor Tahir Khan QC told the court that Afghan electrician Mr Khyel had been having an affair with Kainaat Bibi.
'Defenceless men'
He said Mr Zubair, a taxi driver, had fled on a flight to Islamabad, Pakistan, and had not been seen since.
Mr Khan told the jury the prosecution case was that Mr Hussain, of Wensleydale Road, Bradford, was one of the other men involved in the "violent attack with weapons on two defenceless men".
He is on trial along with Mohammed Iqbal Mazar, 29, of Athol Road, Bradford, who denies one count of perverting the course of justice relating to the removal of blood stains and blood stained furniture.
Mr Khan said: "The two friends were brutally attacked with weapons and killed.
"It's the prosecution case at least three men were involved in the killings."
The prosecutor said the two victims were found dead, with head injuries, in a lane near the village of Tong, between Bradford and Leeds.
But he said the killings took place at Mr Zubair's home at Heath Terrace, Barkerend, Bradford, and that his van was used to transport the bodies.
The trial continues.