Verger's 'shock' over Wakefield Cathedral grope claim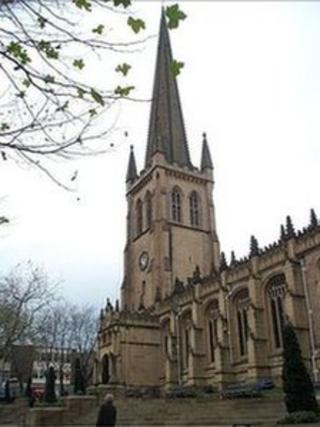 A gay male verger accused of sexually assaulting a woman in a cathedral has told a court of his shock at the allegation.
Nicholas Whitaker, 34, said he was "mortified" when he was informed a woman had made the allegation against him.
He is alleged to have fondled the woman's bust in Wakefield Cathedral.
Mr Whitaker, of Richmond Road, Wakefield, denies sexual assault and is on trial at Leeds Crown Court.
The incident is alleged to have happened moments before an ordination service last July.
Mr Whitaker, a former housemaster at a Berkshire school and a music graduate from Edinburgh University, told the jury: "I thought it would be a fun idea to go behind her and give her a brief hug from behind and say 'hello'."
'No intention'
He said his hands were closed and if he did brush against her chest it was "unintentional".
"I don't remember doing so," he said.
Mr Whitaker said: "[It was] certainly not my intention to touch her breasts. I would have no reason to."
He said hugging someone with "open hands" was an intimate gesture.
"I would never dream of doing that, it's inconceivable," he added.
He said the hug lasted about two seconds - "the time it takes to say, 'morning chuck'."
'It was awful'
It is alleged the married woman, who cannot be named for legal reasons, was fondled for between 30 seconds and a minute as head verger Julie Lovell looked on.
When asked about his sexuality, Mr Whitaker said: "I don't wave a banner but I don't make a secret of it."
He said he "came out" at university and added colleagues were aware of his sexuality.
The woman at the centre of the allegation previously told the court: "He put his arms underneath my arms and just grabbed hold of my bust and groped and felt and squeezed. It was awful," she said.
The trial continues.