Leeds' Tetley's Brewery site owners accused of development delay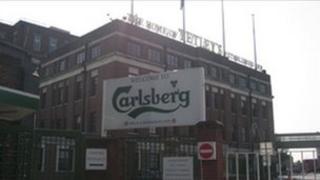 Owners of a closed brewery in Leeds are delaying the site's redevelopment, the city's civic trust claims.
Kevin Grady, of Leeds Civic Trust, said Carlsberg was "land banking" because it plans to open a temporary car park on the Tetley's Brewery site.
Tetley's Brewery, one of Leeds's oldest companies, closed in 2008 by owners Carlsberg because of market pressures.
A spokesman said it planned to use the site temporarily whilst long term plans were drawn up.
Dr Grady said: "We'd like to see action in the near future.
"What we need is development in the city to give the message that Leeds is on a roll again and that there is considerable developer interest.
"If this site lies in this state for a temporary use, it's a bad message."
'Phase-by-phase'
Richard Bickers, Carlsberg representative, said the owners wanted to use the site as temporary car park for five years to support the city, until it had made a decision on the development of the site.
"If you look at developments across the city you see that these sites take a long time to be built out," he said.
"It is a phase-by-phase approach. We can't magic the city into a new quarter overnight.
"We have some temporary uses which are coming onto the site for the short term and then who knows, in three or four years we might start re-building some buildings for residential, offices and hotel."
Mr Bickers said the company recognised "this will take time" but it was looking to "open up the site as soon as we can".