Featherstone's Girnhill residents refuse to sell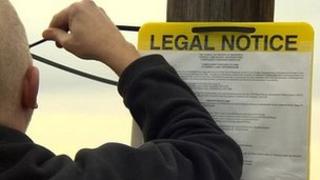 The owners of three homes on a West Yorkshire estate set for demolition are refusing to sell to the council.
Wakefield Council has issued compulsory purchase orders (CPOs) to the homeowners at Girnhill, Featherstone, with 21 days for them to appeal.
The council said a £50,000 relocation package and the full market value of the homes plus 10% was still on offer.
But remaining residents said they would fight the order to move "all the way".
'Last resort'
Wakefield Council said houses on the Girnhill estate, which was built in the 1950s, were in poor condition and there was "low demand" for them.
Planning permission for a new development at Girnhill was approved in December 2011, with developer Strata Homes hoping to start work as soon as possible on 233 new homes.
Fifty-six of these would be for rent and shared ownership and 177 for private sale.
Wakefield Council said about 30 homeowners and tenants had already been relocated so the regeneration plans could go ahead.
But work cannot begin until two occupied and one unoccupied property have been bought using compulsory purchase orders.
Andrew Wallhead, Wakefield Council's corporate director for regeneration and economic growth, said CPOs were "a last resort".
"We did not want to get to this stage. We hoped we could acquire the properties for negotiation but we are down to the final three properties and for the scheme to go ahead we have to acquire them."
The council was "still open for negotiation" with the remaining residents on the Girnhill estate, said Mr Wallhead.
'No way'
Glyn Millard, who owns one of the houses, said he was "gutted" that he had now been issued with a CPO and would "fight as long as it takes".
"It's my property, it's my land, so why should I have to move? It's not for sale, it never has been and never will be," he said.
Another resident, who did not want to be named, said she would not accept the terms of the compulsory purchase order.
"This is where I was going to spend the rest of my life. To say that the council can just come and give you what they want and take it. No way," she said.
The remaining householders on the Girnhill estate must now take their objections directly to the Secretary of State.
It is expected a final decision on the compulsory purchase of the three homes will be made in March.