Farsley criticises RBS advert after Natwest branch closure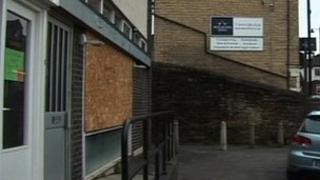 The Royal Bank of Scotland's (RBS) pledge to be the "last bank in town" has landed it in trouble with the advertising watchdog.
RBS made the claims in two TV commercials which have now been banned by the Advertising Standards Authority (ASA).
Viewers in Farsley, West Yorkshire, were among those who complained about the adverts.
Two months after they were screened last year, a branch of Natwest in Farsley was closed, despite it being the last in the area. Natwest is part of the RBS group.
The complaints were filed by Andrew Carter, Conservative councillor for Farsley, and the pressure group Campaign for Community Banking Services (CCBS).
Mr Carter welcomed the ASA's ruling.
He said: "Unfortunately it doesn't get our branch back. I just took the view that I was not prepared to see the people I represent treated in such a disdainful way.
"Local businesses need a local bank and a local bank is one that is there on their own high street, not a high street well over one-and-a-half miles away."
Former Natwest customer David Hinchliffe, who owns Farsley DIY Centre, said he was disappointed when the branch closed.
"It obviously became a great inconvenience really because not only did I bank there but a lot of my customers banked there.
"We also had passing trade at lunchtimes when businesses outside the area would come to Farsley to do their banking and then maybe pop into my shop and other shops and we'd lose that trade as well."
In a statement, RBS defended the Farsley closure, saying there were eight banks in nearby Pudsey.
It added: "We are proud of our commitment to offer services in towns where other banks have closed, and we currently do this in 168 locations.
"While we disagree with the ASA's decision, we welcome their offer to work more closely with them in future.
"This is a hugely important commitment for us and it's important we get it right for our customers."
The CCBS has been fighting a long battle against branch closures.
New figures released by the group show 64 communities in the Yorkshire and Humber region rely on just one bank.
Those in West Yorkshire include Denby Dale and Skelmanthorpe, near Huddersfield, and Bretton, near Wakefield.
CCBS director Derek French said most banks had pledges to support local communities by keeping branches open.
But he said there was "no guarantee as to how long the pledges will remain and what level of service and opening hours will be maintained".
He said: "The government has given them [the banks] the green light to do more closure by concentrating on bonuses and lending to small businesses.
"MPs really have to get their finger out and do something before it's too late."