Brother's appeal over 2004 murder of Leeds man John Luper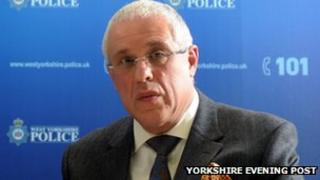 The brother of a businessman who was murdered by robbers at his Leeds home has spoken for the first time of the "devastating impact" on his family.
John Luper, 57, died of asphyxiation during the raid on his home in Alwoodley in February 2004.
He was found the next day by his wife and daughter, who managed to escape after being tied up by the robbers.
On the eighth anniversary of the killing Mr Luper's brother Toby urged anyone with information to call police.
He said: "The death of my brother John has had a devastating impact on our entire family. John was larger than life and he has left a huge void in all of our lives.
"I want the public to come forward with any information that they may have, as just the smallest piece of information could make all the difference.
"Our family continues to be positive and we know the police are doing all they can to get the evidence to convict those responsible for my brother's murder."
'Horrific ordeal'
Mr Luper was attacked while walking his dog at about 23:20 GMT on 16 February and dragged back to his home.
The thieves tied up his wife and daughter and their au pair before taking cash and jewellery worth about £100,000, including a rare Cartier watch. It was one of only four sold in the UK at the time.
The detective leading the investigation said he was determined to bring the businessman's killers to justice.
Det Ch Insp Simon Atkinson, from West Yorkshire Police, said: "There has been some significant progress in the field of forensic science and we are currently reexamining a number of items that were seized both from the crime scene itself as well as number of other searches that were carried out as part of the investigation.
"In the eight years that have passed since Mr Luper's death allegiances change and I would appeal to the criminal fraternity to come forward and help us bring those responsible for this man's death before the courts.
"The attack on the Luper family was a targeted and planned robbery that needlessly took the life of a father, husband and brother, and subjected three women to a horrific ordeal that they continue to come to terms with."