Fox's Biscuits factory explosion leaves six in hospital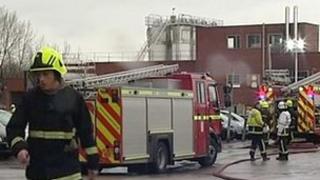 Six people were taken to hospital when a diesel storage tank exploded at a West Yorkshire biscuit factory.
The incident happened at the Fox's Biscuits plant, Batley, at about 10:45 GMT as the tank was being drained and cleaned, the company said.
One man was rescued by firefighters and taken to Pinderfields Hospital in Wakefield suffering from burns.
A further five people were taken to Dewsbury District Hospital suffering from the effects of breathing in smoke.
Burns to legs
Production at the plant was temporarily halted and 450 staff evacuated the site, the company said.
A spokesman for Fox's Biscuits' parent company, 2 Sisters Food Group, said a contractor had suffered burns to his legs following a spark in a diesel tank on the edge of the site.
"The individual's burns are not believed to be life-threatening and he is now being assessed at hospital and our first priority is his welfare," he said.
"All of our safety and emergency procedures were followed and the fire brigade attended the site as a precaution."
Mel Bugler, acting managing director of Fox's Biscuits, said there would be a "full investigation" into the blast.
Officials from the Health and Safety Executive are expected to arrive at the site later.
Saved from closure
The factory was anticipated to have returned to full production by about 15:00 GMT, a spokesman said.
The Fox's Biscuits factory in Batley was saved from closure in July 2011.
Northern Foods, which owned Fox's Biscuits at the time, announced in 2008 it wanted to merge its plants in Batley and Uttoxeter, Staffordshire.
But the company said in 2011 the two plants, plus another in Kirkham, Lancashire, would remain open after a £27m investment.