Jewish high school plan for Leeds submitted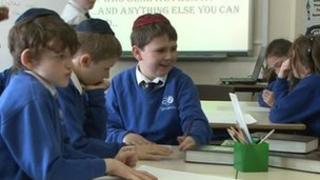 Plans for a free school for Jewish children in Leeds have been submitted to the government.
About 100 Jewish high school children currently make a 90-mile return trip from Leeds to King David High School in Manchester for a faith-based education.
The free school would be an extension of the state Brodetsky Jewish Primary School in Alwoodley.
The government will make a decision on the plans in the summer. If approved, the school will open in September 2013.
Dan Cohen, a governor at the school and Conservative councillor for the Alwoodley ward, said: "I am tremendously grateful that Manchester has taken our children for so long and given them a great education, but that shouldn't mean that as a city we can't try to replicate those successes here on our own doorstep."
The plans are opposed by King David High School, which says the Jewish population in the north of England is not big enough to support two Jewish high schools.