Bradford man Sabir Hussain guilty of 'affair' killing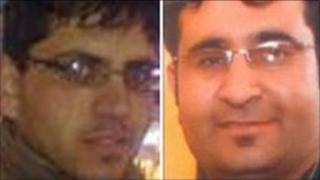 A man has been found guilty of killing two friends who were beaten to death because one of them was having an affair with a married woman.
The bodies of Shahbzada Muhammed Imran, known as Imran Khan, 27, and Ahmedin Sayed Khyel, 35, were found on a country lane near Bradford last May.
Sabir Hussain, 40, of Wensleydale Road, Bradford, was convicted of manslaughter at Bradford Crown Court.
Hussain, who was cleared of murder, is due to be sentenced on Friday.
The jury heard Mr Khyel and Mr Imran were "brutally" killed by at least three men because Mr Khyel was having an affair with the wife of taxi driver Muhammed Zubair.
Mr Zubair is the main suspect in the murders but has not been found after he fled on a flight to Pakistan, the court heard.
Secret phone
The prosecution said the killings took place at Mr Zubair's home at Heath Terrace, Barkerend, Bradford, and that his van was used to transport the bodies.
The two victims were found dead, with head injuries, in a lane near the village of Tong, between Bradford and Leeds.
Mohammed Iqbal Mazar, 29, of Athol Road, Bradford, who had been accused of removing furniture for cleaning from the house after the deaths, was cleared of perverting the course of justice.
The court heard Hussain told police that Mr Zubair had attacked the two men with a hammer.
The prosecution case was that Hussain joined in the attack on the men with a dumbbell bar.
Wife's statements
Hussain told detectives he had only used the bar to push the victims, saying he was only involved in subduing and restraining the men.
The court heard Mr Zubair attacked the men after he found the secret mobile phone his wife used to communicate with Mr Khyel.
The jury was told that Mr Zubair's wife Kainaat Bibi, 27, of Heath Terrace, had pleaded guilty to an offence of perverting the course of justice relating to statements she made to police about the whereabouts of her husband.
Mr Zubair's mother Arab Sultana, 64, of Heath Terrace, has also pleaded guilty to perverting the course of justice in relation to buying her son's flight to Pakistan.
The two women will be sentenced at a later date.
Correction April 17 2012: This report has been amended to make clear that Mohammed Iqbal Mazar was accused of removing bloodstained furniture rather than removing bloodstains from furniture after the deaths.