Casey-Lyanne Kearney death: Hundreds expected at memorial events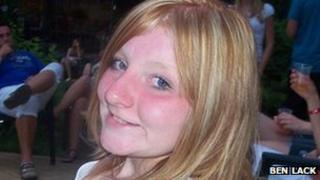 Hundreds of people are expected to take part in fundraising events at the weekend in memory of killed Doncaster girl Casey-Lyanne Kearney.
She was fatally stabbed in Elmfield Park, Doncaster, on 14 February.
Two sponsored walks and a gig with Britain's Got Talent singing duo 2 Grand will take place on Sunday in Rossington, where the girl lived.
Walk organiser Zoey Dudley said the events were a "concerted community effort" for the 13-year-old's family.
Casey died after dialling 999 for help following the attack in the centre of Doncaster.
She had been on her way to meet a friend when she was stabbed at about 13:15 GMT on Valentine's Day.
The teenager was treated at the scene by police and paramedics before being taken by ambulance to hospital where she later died.
'Chance to remember'
Mrs Dudley said Casey's death had "devastated" local residents and they wanted to send a message of support to her family.
"The whole of the community is involved. We've even got kids - two-year-olds - taking part with their nans and granddads," she said.
"It's nice to do something together. It's affected us all."
The sponsored walks, from Rossington to Elmfield Park, will take place at 10:00 GMT and 13:00 GMT on Sunday, with about 200 people expected to take part in each event.
Britain's Got Talent finalists 2 Grand, from Doncaster, have also agreed to perform at charity gigs after both walks.
Gig organiser Sharleene Finn said she hoped Sunday's events would "bring people back together".
"It's a chance to remember that poor girl whose life was taken away so early," she said.
All money raised on Sunday would be donated to Casey's family, said Mrs Finn.
Hannah Bonser, 26, of Cusworth House, Doncaster, has been charged with Casey's murder.
She is also charged with two counts of possession of a bladed article.