Halifax's 'hidden' homeless caught on camera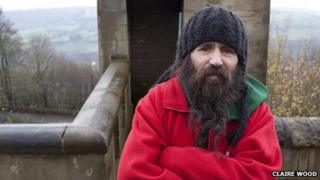 A man who was homeless for 11 years and slept rough in a pig sty, on a rubbish tip and even in a cave, has been featured in a photographic exhibition of Halifax's "hidden" people.
Pete Davison, 48, also slept in skips around the West Yorkshire town but has now found a proper roof over his head after an accidental meeting with his brother in a library.
He and his brother, Joe, are now living in a Christian community house in Halifax.
The exhibition, featuring Mr Davison and others at the Dean Clough complex, is by Huddersfield photographer Claire Wood.
Ms Wood said she found the homeless subjects to be "lovely and chatty and open" about their lives.
She was particularly shocked by the story of Mr Davison and said it was a "raw" experience talking to people who had hit "rock bottom".
Ms Wood said the homeless were normally "invisible" during everyday life and she hoped the exhibition would do some good by changing attitudes.
'Celebrity portraits'
She said she hoped the exhibition's visitors would feel more like stopping and talking to people living on the street after seeing her pictures.
For the series of pictures she had asked her subjects to take her to where they would like to be photographed and felt comfortable.
Ms Wood a photographer for 10 years, is equally at home taking pictures of celebrities such as actress Maxine Peake, or Dragons' Den entrepreneur Peter Jones for glossy magazines.
She said: "It was quite a contrast photographing the homeless as I often do celebrity portraits.
"But people are people", she said.
The photography sessions were organised by local businessman and volunteer Dave Fawcett.
Mr Fawcett organises the Halifax Food and Support Drop In at the town's Ebenezer Methodist Church.
During a typical week, the two-year-old project dispensed about 140 food parcels with the help of 45 volunteers.
The project offered not only food but also support and friendship for its users.
With the "amazing" help of the local council, accommodation had been found for some of the people using the centre, said Mr Fawcett.
Pig sty refuge
While volunteering at the centre Mr Fawcett again met Mr Davison.
Mr Davison lived for three years in a den he had made in a rubbish tip, and it was in Hebden Bridge that he found refuge in a pig sty for another three years.
He also lived under a small overhang of rock on a hillside in King's Cross, Halifax.
He survived by begging and foraging for food discarded by supermarkets.
However since the chance meeting with his brother, Mr Davison has started voluntary work erecting fences and working as a landscaper.
Mr Fawcett said homeless people were "often hidden" and did not want to be found because having fallen so low they craved "peace and privacy".
Being photographed for the exhibition had been "really positive" for some of the subjects who had now found more permanent homes, he added.
The exhibition is on at Dean Clough Gallery until 6 May.