Aaron Booth plant food death: Mother guilty of neglect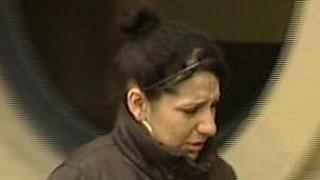 The mother of a two-year-old boy who died after drinking plant food has been found guilty of child neglect.
Lauren Booth, 24, was asleep when her son Aaron drank the poisonous liquid at their home in Norris Close, Huddersfield. He died 11 days later.
Bradford Crown Court heard the boy had not been fed and was probably extremely hungry and thirsty when he drank the plant food.
Booth was granted bail until 16 April, when she will be sentenced.
The court heard Booth was growing cannabis in her home and was using pH Up brand plant food, commonly used in hydroponic growing.
Aaron's windpipe disintegrated and he suffered several other injuries, including burns to his stomach, pancreas and spleen, after he drank the liquid on 6 November 2010.
'Seemingly not bothered'
The jury heard that Booth and her partner were awoken by a loud thud at about 12.40 GMT to find Aaron lying down with a brown mouth and lips.
The court was told that Aaron's father, Mohammed Khan, who was no longer in a relationship with the boy's mother, did not know his son was in hospital until 14 November, after a friend told him.
That day he went to the Leeds General Infirmary where Booth seemed more concerned about having to move her cannabis plants than her son's condition, according to prosecutor Thomas Storey.
Mr Storey said: "She told him that she and her partner had been trying to make some money by growing skunk in the house, almost seeming annoyed by the involvement of the police because they were going to have to find somewhere else to grow the skunk, seemingly not bothered about her son."
The blue plant food bottle could have been mistaken by Aaron as the soft drink Fruit Shoot, according to Mr Storey.
But it contained a highly toxic concentration of potassium hydroxide, or caustic potash, and two teaspoons of it would have been a fatal dose.