Sabir Hussain jailed over Bradford 'affair' killings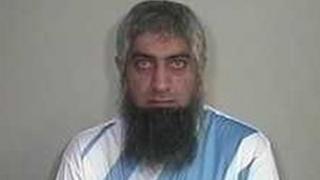 A taxi driver has been jailed for 10 years for killing two men who were beaten to death because one of them was having an affair with a married woman.
Sabir Hussain, 40, of Wensleydale Road, Bradford, was convicted of the manslaughter of Shahbzada Muhammed Imran, 27, and Ahmedin Sayed Khyel, 35.
The victim's bodies were found on a country lane near Bradford last May.
Bradford Crown Court heard Mr Khyel was having an affair with the wife of a man, Muhammed Zubair, who fled the UK.
Hussain had gone on trial accused of murder but was cleared of those charges.
Women's lies
The father-of-three told police that his friend Mr Zubair attacked the two victims with a hammer.
He claimed he only used a dumbbell bar to push the victims and that he was only involved in subduing and restraining the men.
Mr Zubair's wife Kainaat Bibi, 27, of Heath Terrace, Bradford, was also jailed along with his mother Arab Sultana.
Both women pleaded guilty at earlier hearings to perverting the course of justice.
The court heard Bibi told detectives a series of lies, including that her husband was on a pilgrimage to Morocco. She was jailed for 20 months.
Sultana, also of Heath Terrace, was given a sentence of three years and nine months.
The judge, Mr Justice King, heard how she bought a plane ticket which allowed her son to escape justice by flying to Pakistan after the killings.
The judge said hers was a extremely serious case of perverting the course of justice as it meant a man responsible for a double murder may well never face justice.
He told Sultana: "Family loyalty and maternal love cannot justify what you did."
Speaking after the sentencing Det Supt Dick Nuttall, from West Yorkshire Police, said he hoped the sentences would bring some comfort to the victims' families.
He said: "However, our work continues to locate an outstanding suspect."