Protesters demonstrate over Leeds City Council cuts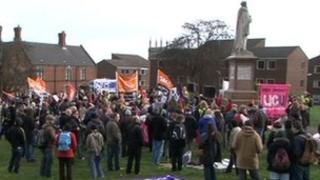 Up to 200 people have gathered in Leeds to protest against the Labour-run council's cuts.
Demonstrators met outside the annual meeting of Conservative councillors in opposition to government cuts to authority budgets and pensions.
Kevin Pattison, of Leeds Against Cuts, said: "I think the people of Leeds have had enough."
One Conservative councillor said he did not know why his party was apparently being blamed.
'People are angry'
Earlier this month, the council said it would seek to cut 400 jobs in the next financial year as it attempts to save £55m.
According to the council, adult social care facilities will be hit by the cuts, with 13 buildings currently used for day care and support facing closure.
Mr Pattison said: "If you lose people from services such as adult social services who looks after these vulnerable people?
"I think people are angry. People have had enough.
"We want the money spent on vulnerable people for decent services, that the people of Leeds want."
'Financial mess'
The Conservative Councillor for Adle and Wharfdale, Barry Anderson, said he did not know why people "are angry with the Conservatives" locally.
"It's because of [Labour's national] legacy that we've had to make difficult decisions," he said.
"When you come into power [nationally] you don't always make decisions that are popular but decisions that are right for the country. The country was in a financial mess. The country needs to get itself sorted out.
"We've got to try and make the best of what we can."