Menston homes proposal approved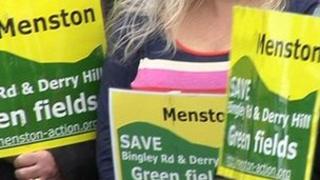 Plans to build 300 houses in a West Yorkshire village have been approved by Bradford Council despite opposition.
About 300 people attended a meeting in Menston to discuss plans to develop sites at Bingley Road and Derry Hill.
A parish referendum in Menston last year saw the overwhelming majority of those who voted oppose the proposals.
The council has said the Menston sites were allocated after a specific recommendation by a government planning inspector, not the council.
'Difficult day'
On Tuesday, councillors approved plans to build houses on Derry Hill and Bingley Road saying it had been a "reluctant decision" and they had "had a difficult day."
Campaigners against the plans, including the parish council, said they feared the houses would cause an increase in traffic in the area and were disappointed at what they said was a lack of housing provision for the elderly and playing areas for young people on the site.
Opponents also said they were afraid public transport in the area would be overwhelmed.
Attending the meeting, Graham Booth, from Menston Action Group, said the proposals were "preposterous".
He said: "We love this village and we all pull together. We want to protect what we've got and we think that if development is needed then we are probably the best people to decide where they go and what they look like."
The two locations in Menston were allocated as housing sites in Bradford Council's Unitary Development Plan and released for development in 2008.
They are earmarked for building by Barrett Homes and Taylor Wimpey.