Huddersfield protesters march against greenbelt land plans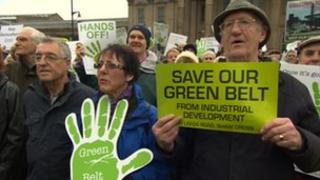 About 300 people have marched through Huddersfield against plans to build homes on greenbelt land.
Kirklees Council plans to build 22,500 new homes over the next 20 years with 1,500 of those on the greenbelt.
One site earmarked for development is in the Chidswell area of Dewsbury.
Several organisations, including the Chidswell Action Group, gathered at the Town Hall for a rally after marching through the centre of the town.
The council said new homes and jobs were needed in the area because some businesses were being forced to move out of Kirklees to find alternative sites.
Council leader Mehboob Khan said: "70% of Kirklees is in the greenbelt and that's why it's such a brilliant place to live and visit.
"Now what we're suggesting is a release of 1% of that greenbelt over the next 20 years on two specific sites to help create jobs."
Campaigner Keith Williams said: "We understand that people want jobs and they want houses but this is not the place."
Rod Lilley, from Chidswell Action Group, said: "We want them to be aware they could be destroying some good green land here and creating urban sprawl.
"We were trying to get all the councillors up to the site and let them see what it looks like, before they make their final decision."
A decision is expected to be made by the council on Tuesday.