Danny Care cautioned for urinating on Leeds hotel steps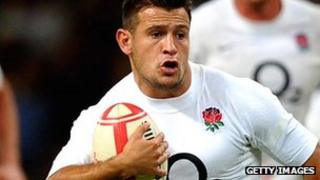 England rugby player Danny Care has been arrested and cautioned after urinating on the steps of a Leeds hotel.
The Harlequins scrum-half was found by British Transport Police on the steps of the Queens Hotel in Leeds city centre just after 03:00 GMT on Sunday.
He was taken to a station by officers and questioned about the offence before being released.
Care was given a caution for being drunk and disorderly.
In January Care was fined a total of £3,100 and banned from driving for 16 months after pleading guilty to drinking and driving in the early hours of New Year's Day.
He was stopped by police at Winchester services on the M3 in Hampshire in the early hours of 1 January, Southampton Magistrates' Court heard.
The 25-year-old was excluded from the Six Nations squad after the case.
And in December he was fined by police for being drunk and disorderly.
'Caught short'
On Monday morning Harlequins issued a statement saying Care had met its director of rugby Conor O'Shea.
Following the meeting Mr O'Shea said: "After last Friday evening's match at Newcastle, our players were given a week off and Danny went to spend a few days with his parents at their home in Leeds.
"On Saturday evening, he went out with some friends in the city and took a taxi home. He was caught short and stopped the taxi to relieve himself.
"The situation Danny finds himself in is unfortunate and is one that could and should have been avoided.
"We have no intention of doing anything other than supporting Danny and continuing to work with him so he understands his position and the decisions he makes."